Our aim is true
Once a year the Logic team gets together to discuss and agree goals for the following 12 months. With everyone involved in setting our priorities, it made sense for us to all head off to a neutral venue and take aim at 2020.
So we set up base camp at the luxurious surroundings of Luton Hoo on the border of Bedfordshire and Hertfordshire. Despite its imposing grandeur, the atmosphere is very relaxed and welcoming and our team discussions were very productive.
Once the formal part of proceedings was over, we headed into the woods for a spot of bows & arrows – or to give it its proper name, archery.
This may be an Olympic sport but in the 1st round of the competition the Logic team certainly tested the quality of the oversized netting behind the target board. Having got our sights in, the 2nd (and final)  round proved to be very competitive with a constant thud as the arrows successfully found their target,
It was a close run thing but ultimately Susi was declared the winner by our independent instructor (who – if truth be told – probably preferred to get off home a bit lively and put the kettle on).
Congratulations to her and to Harj (both pictured below with their prizes) who came a close second.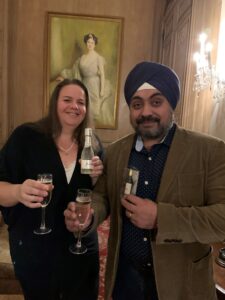 Later in the evening we enjoyed the setting of a private dining area so we could continue discussions over dinner, along with our annual prize-giving for the various individual achievements reached during the year.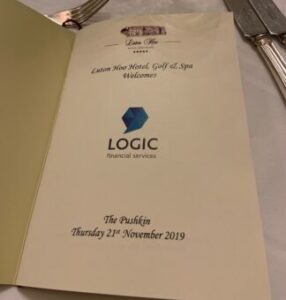 All in all, it was an excellent and very productive day. The plan for 2020 is clear, we know where we want to be and how we are going to get there. A big thanks to the staff at Luton Hoo who were excellent – we can't speak more highly about their customer service (*or indeed the quality of their hash browns at breakfast*).