Your Logic team update: Our summer of charity fundraising
In your Logic team update, read about the latest charity fundraising efforts being made by the Logic team and their industrious offspring.
Logic's next generation raise funds for the Little Princess Trust
Abbie (daughter of Logic's operations manager Susi) and Amber (daughter of directors Harj and Harmit) both helped the Little Princess Trust charity this summer.
An incredible organisation, the Little Princess Trust provides wigs to children with cancer, helping to restore their confidence and sense of identity.
Abbie spent three years growing her hair and donated 21 inches of it to the charity.
The hair cutting took place on 4 June 2021 and by the beginning of August she had raised an impressive £1,161 for the Little Princess Trust.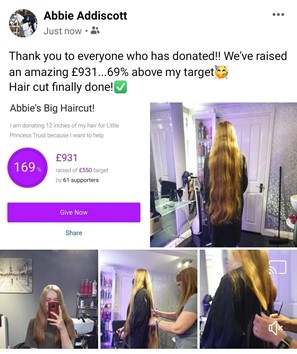 Amber had also been growing her hair for the last three years. Inspired by Abbie's exploits and the money she was raising for such a worthwhile cause, Amber also decided to cut her hair and donate it to the same charity.
Susi, Harj, and Harmit are all enormously proud of their daughters' efforts and all of us at Logic would like to add our congratulations to the pair for their amazing effort.
The 2021 "virtual" Virgin Money London Marathon
Director Lindsey has already achieved two-thirds of the so-called "London Classics". She has completed the Prudential RideLondon 100-mile cycle sportive, as well as the one-day open water swimming festival Swim Serpentine, which involved a two-mile swim.
She's now going for the final challenge: the London marathon.
Everyone who has completed this iconic trio of events receives a specially-designed London Classics medal engraved with the words: Et ego Londinium vici ("I too have conquered London") and will be listed in the London Classics Hall of Fame.
The event is being held on 3 October but, due to Covid, the scaled-down normal event is being joined by a "virtual" version where participants undertake a marathon distance in their local area, running or walking, on the same day.
Lindsey is raising money for Cancer Research UK.
She managed to rope Guy into her training programme, and he has now also joined up to participate in the gruelling event. Guy will be raising money for the same cancer charity.
For the avoidance of doubt, although he has also previously completed the Ride London 100-mile cycle sportive, Guy won't be taking on the two-mile Swim Serpentine challenge – unless the organisers change the rules and allow participants to wear water wings!
We at Logic wish Guy and Lindsey all the best for their epic 26.2-mile virtual challenge.